Hubert Goeppel:
Certification of Meister status





Established in 1946 in Frankfurt, Germany by Jacob Bonifer

Ever since its establishment, Stratic has poured its passion into making the lightest, most easy-to-use travel luggage. The company gets its name from the word "stratosphere", symbolizing its commitment to be the top-class in the universe, providing comfortable and light-hearted air travel, with its production of high-quality bags and trolley cases.

Early on, Stratic has tackled the issue of environmental preservation. Stratic's products are the first in the luggage world to be given Oeko-Tex Standard 100 certification, for its use of proven environmentally friendly materials. Stratic strives to make products that harm neither the environment nor its inhabitants.

It has received accolades in German leather competitions put on by the government, and has supported worthy causes such as "Operation Smile." Stratic's trolleys are the official luggage for Austrain Airlines' Cabin Attendants. This is a luxury brand that is well-known and loved throughout Europe.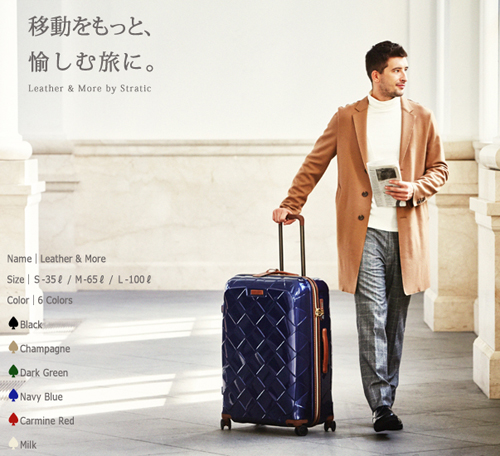 Established in 1956 inBergheim/Erbach, Germany by Edmund Goeppel

German leather manufacturer Goeppel is able to provide the highest-quality of leather, and is known throughout Europe as one of the few remaining handcrafted leather producers.
Ever since its establishment, Goeppel has mainly produced small leather goods and portfolio cases. And rather than choosing to stand in the spotlight, it has worked in behind the scenes as an OEM producer, supporting several famous European luxury brands.
Their know-how and German "meister" pride is now handed down to the second-generation, and is now today going strong. To provide an example of their paramount technique, it would be in 1962, when it was selected as the sole producer of all leather goods for the Goldpfeil brand (at the time it was already a world-renowned luxury brand.)

Nowadays, Goeppel not only continues to handle OEM projects for European brands, but it also manufacturers menu covers for 3-star restaurants and world famous hotels, along with its own beautiful portfolio cases. It also hand-makes the covers of owners manuals for Porsche and Daimler (Mercedes Benz) cars.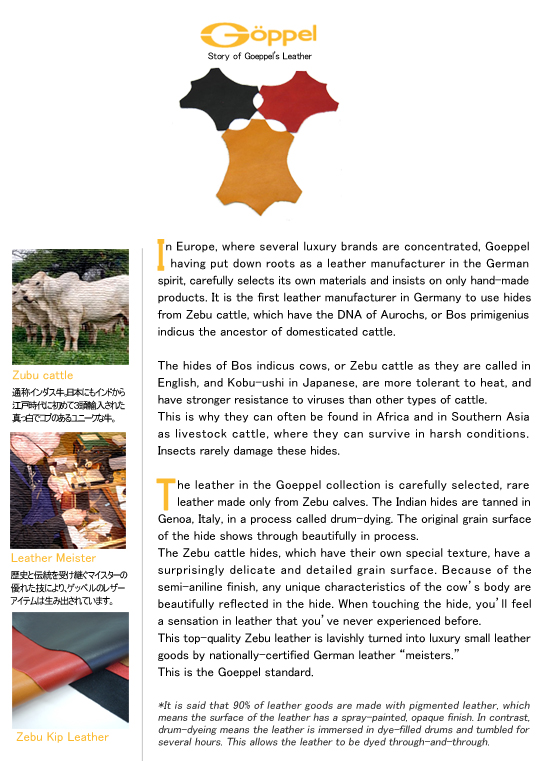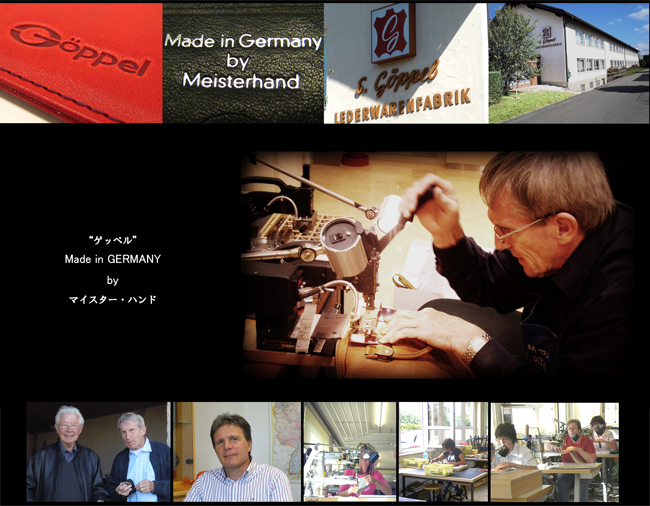 Official German Website of Goeppel
Please contact the Langer Japan office regarding any one of our high-grade, luxury products.
TEL : +81-3-6265-0030(weekdays 10:00am-18:00pm)
E-mail : info@langer.co.jp